What would you do if your life got wiped clean?
That's what happened to us last week.
Our websites became blank pages.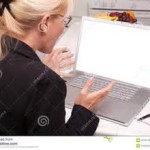 We were sad, confused, frustrated, needy, . . .
We didn't know where to turn or how to proceed.
We wanted our websites back.
The Crash took us back to our own experience.
In the fall of 2013 our life got wiped clean.
We wanted our international life back.
We were sailing along building a meaningful life in Prague. Then Curt got sick. Three near-death episodes and two emergency surgeries later he was stabilized. A fragile Curt and a worried Sandra boarded a plane. Uncertainty lasted for months before we could return to our adopted city. Financial support dwindled. In the end we had to leave our friends and colleagues behind along with our lovely flat. We arrived in Boston, sad, confused, frustrated, needy …
The plain white computer screen where Lifework Forum used to live is a good illustration of where we were in June 2014. We did some fumbling around, trying to figure out what to do next. As with the website, we finally gave up on our own knowledge and efforts, and turned to the proper source of expert assistance. We're happy to report that God received us and is restoring us. The more fully we lean on Him the greater our awareness and understanding, our confidence and courage.
We've shared the message that a believer's life is their work for nearly 25 years. And here we are taking on that very process ourselves. The screen of our future is as empty as it was in 1976 when we were united in Christ at L'Abri. We've walked through the years step by step and we continue to do so. We know our rebuild will take more time than the one the techie guys finally accomplished at our website.
We're excited and slightly overwhelmed by what's ahead. The great I AM is
reviving our vision, calling us forward, guiding our steps as He rebuilds the screen of our life. His design includes His chosen ones as active participants. We carry our hopes and dreams to Him along with our weaknesses and failures. He encourages us with love and Truth.
What about you? How do you make your life your work?